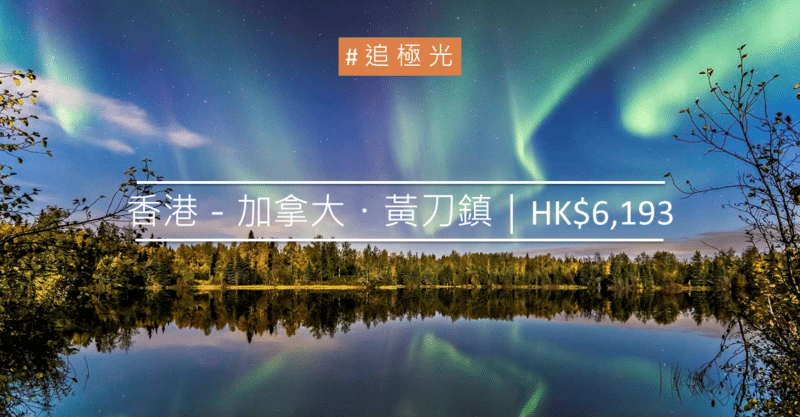 Flights from Hong Kong to Yellowknife, Canada take you from USD792 only! And the best season for Yellowknife to observe the aurora is from mid-Aug to late-Sept & mid-Nov to early-Apr.
香港出發到加拿大黃刀鎮的航班就只需要 HKD6,193!而且還可以在最適合看極光的季節出發!根據 auroravillage.com 的資料,十一月中至四月頭都是看極光的好時機。
FLIGHTS 航班
Hong Kong-Vancouver-Calgary-Yellowknife, round trip
香港-溫哥華-卡加利-黃刀鎮,來回
AIRLINE 航空公司
Air Canada 加拿大航空公司
DATE&RESTRICTIONS 日期&限制
Max stay 21 days
最長逗留時間為 21日
Departure flights permitted on 11/09-14/12, 25/12-31/12 (dd/mm)
出發日期需為 11/09-14/12, 25/12-31/12 (dd/mm)
Departure flights operate from Mon-Thur
出發航班逢星期一至四營運
EXAMPLES 例子
18/10-25/10
19/10-31/10
31/10-07/11
01/11-09/11
17/11-21/11
21/11-03/12
…more
*The price has been validated upon posting. Yet, as the stock and price vary from time to time, FlyAsia does not guarantee the price of your purchase.